Scranton Personal Injury Attorney
Personal Injury Lawyer Serving Northeast Pennsylvania & Pocono Mountain Region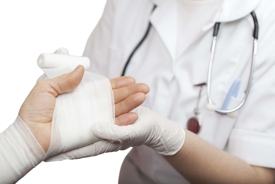 Personal injury is a serious legal matter. Accidents often lead to substantial medical bills, making it difficult for the injured accident victim to pay for normal living expenses, especially if the injury rendered him or her unable to work. At Rogan Law, a Scranton personal injury attorney can assist you in holding the negligent party responsible for their actions.
When attempting to rebuild your life, you cannot erase all traces of the accident, but you can work towards rebuilding it as best you can. You can make every stride possible towards this goal with the help of a Scranton personal injury lawyer.
Types of Personal Injury Damages in Pennsylvania
Being injured is a traumatic experience, both physically and emotionally.
In serious cases, a person may suffer from lasting physical effects of the injury, such as:
Scarring
Disfigurement
Inability to perform day-to-day tasks
The emotional trauma may even lead to depression or post-traumatic stress disorder (PTSD), which may only be compounded by the stress of having to deal with an insurance claim or lawsuit. In the face of mounting medical bills and what seems to be a bleak future, a lawyer can help you.
You may also be entitled to recover compensation for your lost earnings and future lost earnings. It is completely devastating to learn that you will be unable to return to your chosen career path and the last thing you want to be concerned about is whether you will be able to support yourself and your family. It is important that you are able to devote yourself to your recovery. Let an experienced personal injury lawyer in Scranton help you with the rest.
How Can Our Law Firm Help You After an Accident?
Patrick M. Rogan is a skilled accident lawyer with nearly 30 years of legal experience. He serves clients throughout Scranton, Wilkes-Barre, Stroudsburg, and the surrounding areas in Northeast Pennsylvania. Mr. Rogan understands what you are going through and is willing to dedicate his time and energy to representing your interests.
Should you decide to work with Rogan Law to file your personal injury claim, our lawyers can conduct all negotiations with the insurance company and the other party in an effort to obtain an out-of-court settlement that will cover your medical expenses, lost wages, and more. We can also seek a judgment in civil court if negotiating a settlement is unsuccessful or is simply not an option.
You can rest assured that no matter what direction your accident takes, we will be able to handle your case skillfully and effectively. Your rights are extremely important and it is in your best interests to have an experienced Scranton personal injury attorney on your side and upholding your legal rights.
Key Areas of Practice – Scranton Personal Injury Lawyer
Our firm can help if you were injured in any of the following accidents:
To get started, all you need to do is contact us for a free case evaluation. We can determine who is responsible for your injuries as well as what your case may be worth. Should you decide to work with our firm, we can then pursue just compensation for your injuries or losses.
When you have suffered due to another person's negligence, you deserve to have an experienced lawyer fighting for your rights. Your chances of full compensation are maximized when you choose to work with a knowledgeable personal injury attorney in Scranton.
Our Scranton team at Rogan Law knows that compensation is important to you, which is why we are dedicated to excellence in service and results. Suffering serious personal injury is one of the most traumatic events that you may experience and we will do everything we can to help you.
Frequently Asked Questions
I believe that I may have been at fault in the accident. Can I still file a claim?
Even if you believe that you were partially responsible in the accident, it is still helpful to contact a lawyer regarding filing a claim. It may be discovered during an accident reconstruction that you were actually not at fault. It may also be possible to still recover compensation even if you were partially at fault. Either way, your Scranton personal injury lawyer can evaluate your case to determine what to do.
What is my injury case worth?
The value of your case will vary depending on numerous factors. The extent of your injuries, the accident itself, medical costs and the long-term effects of your injuries will all affect what your case may be worth. To determine your chances of financial recovery, a skilled personal injury attorney will need to conduct a thorough evaluation and investigation of your case.
Learn More by Visiting Our Page "What Is My Injury Case Worth?"
What is medical malpractice?
Medical malpractice refers to negligent conduct by medical professionals. A doctor, nurse, or other medical professional's failure to provide a standard, acceptable level of care may be grounds for a medical malpractice lawsuit, when this negligence results in injury to a patient. Medication errors, failure to diagnose, birth injuries and surgical injuries are all forms of medical malpractice.
We Will Deal with the Insurance Companies.
Oftentimes, especially when faced with a case that appears straightforward and simple, it is tempting to think there is no need for an attorney at your side. However, the emotional and legal benefit of the right personal injury lawyer is without measure. When dealing in negotiations with insurance companies, your case can often be delayed, denied or settled for a value much less than what is desired. That's where we step in.
Having a knowledgeable, experienced Scranton personal injury lawyer at your side is often enough to get the insurance companies to give you the respect you deserve. When you're respected and they understand we mean business, we can often secure a settlement outside of court. However, if that's not the case, then we are willing to take all necessary steps to get you the maximum compensation.
Call
570.906.8532

– Consult a Scranton Personal Injury Attorney Today

In the wake of an accident, you will be faced with one of the most difficult times in your life. There is no need for you to have to face that alone. With our intimate knowledge of the law, The Rogan Law Firm can take an aggressive approach towards winning you the best possible outcome. Additionally, we can take the burden off your shoulders so you can rest easy knowing your case is in trustworthy hands. You can have peace of mind while we deal with the complex legalities, allowing you to focus on the much more important task at hand: healing.